Volvo XC90 0-60 Time, Horsepower, Performance

As impressive as her comfort, practicality, and cutting-edge tech is, the Volvo XC90 0-60 performance will delight just as well. You may not expect it from an SUV that stands tall with luxurious accommodations for up to seven, but under the hood lies plenty of fun. And under the skin, innovative chassis engineering makes her not only a straight line powerhouse but an agile thrill ride too.
It's just a fraction of what makes a new Volvo XC90 for sale so exciting. The luxury and tech features are a whole other ballgame, and we'd be happy to help you explore them all at our dealership. On this page, though, you'll find all the performance specs a new Volvo XC90 offers across her trim and powertrain choices and how fast each makes the 0-60 mph sprint.
Your Volvo XC90 Trim Selection
For the 2022 model year, the Volvo XC90 takes the stage with two available trim levels. Both represent the pinnacle of SUV luxury, safety, and more, and both represent powerful performance as well.
The 2022 Volvo XC90 performance thrills don't just rely on power, though. Underneath, an innovative Touring Chassis forms the backbone of every Volvo XC90 trim. Designed to be smooth while cruising and sharp while cornering, you'll find handling that's precise and in control at all times. In the front, aluminum double-wishbone suspension confidently holds her to the road, while exclusive rear integral link suspension balances the road-holding with sumptuous comfort.
Any will satisfy your comfort and corner-carving cravings, but when you lease a Volvo XC90, here are your trim options: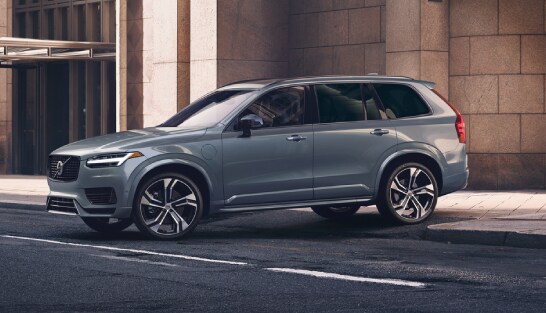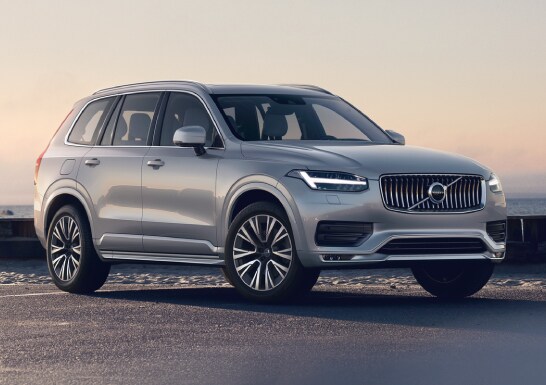 Volvo XC90 Momentum
Standard with seven seats, you'll find that this base level trim is downright astounding. Why? Because a selection of high-end features all come standard. Yours for a starting price of $49,900 MSRP,1 style and comfort reach new levels with standard premium touches like Iron Ore aluminum decor, a hand-stitched leather-trimmed steering wheel, and near-endless seat adjustability. A High-Performance sound system and connectivity, including Apple CarPlay®, also come standard, and so does a whole lot more.
Volvo XC90 Inscription
A refined dose of additional luxury and tech, the standard Volvo XC90 0-60 run gets a boost, and so does everything else with this trim. For a starting price of $63,600 MSRP,1 standard Nappa leather upholstery joins in, and so do more features like heated and ventilated front seats, a Harman Kardon® premium sound system, upgraded interior ambient lighting, and much more. Standout 20-inch alloy wheel designs are just one more attractive side of this top trim.
Volvo XC90 Horsepower per Powertrain
Two trims await your selection, and so do two different powertrains. Performance varies between them, and your choices are as follows:
The T5 Powertrain
For this powertrain, your choices include T5 front-wheel drive (FWD) and T5 all-wheel drive (AWD). Standard on a new or used Volvo XC90 for sale in the Momentum trim is the T5 FWD powertrain, but all the others (including T6) are available as options.
With both T5 FWD and AWD powertrains, a 2.0-liter turbocharged four-cylinder lays down a hearty 250 horsepower along with 258 lb-ft of torque. A towing capacity of up to 4,000 lbs when properly equipped comes with both T5 powertrains as well. Choose the standard T5 FWD powertrain for efficiency on top, or opt for the T5 AWD powertrain for an added dose of all-weather confidence and cornering agility.
The T6 Powertrain
Available only in AWD form on the Volvo XC90, the T6 AWD powertrain comes standard on an Inscription trim Volvo XC90.
With it, a 2.0-liter four-cylinder engine that's both turbocharged and supercharged takes over. Laying down a vigorous 316 horsepower and 295 lb-ft of torque, you also get an upgraded towing capacity that can handle up to 5,000 lbs when properly equipped. As well, the Volvo XC90 0-60 sprint gets a huge boost with this powertrain.
The Volvo XC90 0-60 Time
T5 Powertrain Volvo XC90 0-60
Regardless of whether it's the T5 FWD or T5 AWD powertrain, the Volvo XC90 0 to 60 time will be the same with either T5 powertrain. Specifically, she'll complete the 0-60 run in 7.5 seconds.
T6 Powertrain Volvo XC90 0-60
Only available on a Volvo XC90 in AWD form, the T6 powertrain is your choice for top acceleration. With this powertrain, the Volvo XC90 0-60 run happens in just 6.1 seconds.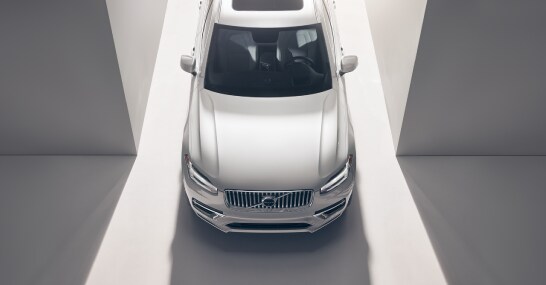 Find SUV Thrills at Bill Kidd's Volvo Cars
Whether the massive luxury or rapid Volvo XC90 0-60 run is your focus, this flagship SUV is attractive no matter how you look at her. There's much, much more to discover in one, and we'd love to help you experience all she has to offer. Stop by or contact us today, and we'll assist with finding the right Volvo XC90 for you, whether new or used, and set up an in-person tour and test drive at your leisure.
Frequently Asked Questions
How fast is the Volvo XC90?
Very. Flagship full-size SUV virtues don't have to mean a boring ride, and the Volvo XC90 0-60 sprint helps prove that. Specifically, with the available T6 AWD powertrain, she'll lay down 316 horsepower and 295 lb-ft of torque from a turbo and supercharged 2.0-liter four-cylinder engine. With that powertrain equipped, she'll crack out a 0-60 time of just 6.1 seconds.
What is the fastest Volvo XC90?
Every Volvo XC90 is a downright quick SUV, but the fastest of them all are models equipped with the T6 AWD powertrain under the hood. Using a 2.0-liter four-cylinder engine that is both turbocharged and supercharged, she lays down 316 horsepower and 295 lb-ft of torque, with her power sent to all four wheels. With this powertrain in place, the Volvo XC90 0-60 run happens in just 6.1 seconds.
Is the Volvo XC90 supercharged?
Yes, but only certain models. The standard T5 powertrain packs a turbocharged 2.0-liter four-cylinder engine. Choose the T6 AWD powertrain in a Volvo XC90, and that engine gets a supercharger added to the mix for a whole lot more power. Specifically, this configuration lays down 316 horsepower. As well, you can find this turbo and supercharged engine setup in the eco-conscious sibling Volvo XC90 Recharge to boot, with a hybrid system adding even more power.
---
1Prices shown are Manufacturer's Suggested Retail Price (MSRP), Base Price or Starting At price and excludes destination fees, taxes, title, license, and registration and/or electronic filing fees, dealer fees.
Make an Inquiry