Volvo Recharge Plug-In Hybrid And Pure Electric Inventory
Volvo electric and hybrid cars offer drivers fuel efficiency and power in a sleek package. Electric vehicles used to be considered a curiosity, as their impressive performance may not have been well known. Now, however, Volvo Cars is helping to prove that these machines can blend fuel efficiency with jaw-dropping acceleration. The company electrified its entire lineup for 2023 – no new gasoline-only Volvo vehicles are being produced. Let's discuss the plug-in hybrid and all-electric technology that underpins the company's most fuel-efficient vehicles.
Volvo C40 Recharge Pure Electric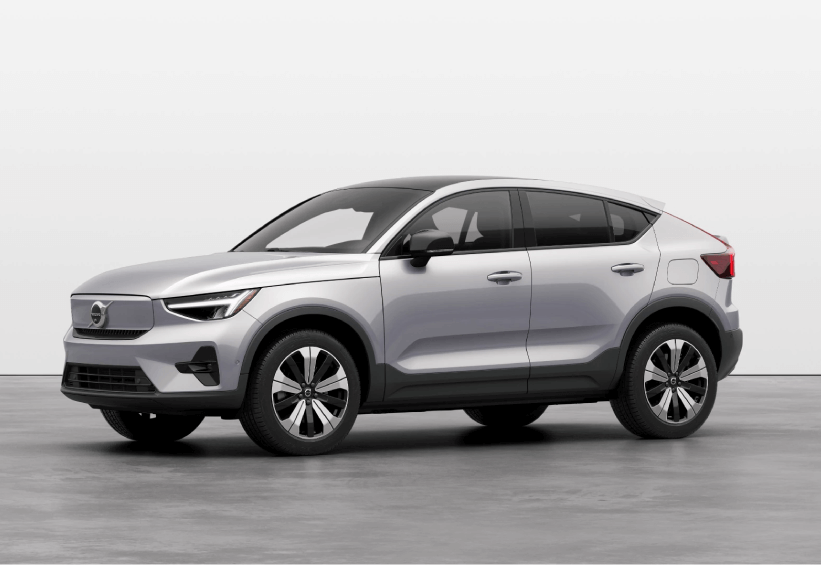 The Volvo C40 is an all-electric SUV with an attractive range and competitive horsepower that can take the kids to practice and give you a hair-raising adventure. With shocking speed and a striking balance between comfort and performance, the Volvo C40 is perfect for environmentally conscious drivers who don't want to lose out on capability. Mix alluring design and impeccable safety with remarkable speed when you hop into a Volvo C40 Recharge. Feel good about the recycled material of the carpets, knowing you're helping the environment, and enjoy the ambient cabin lighting that makes for stunning nighttime driving. Check out our Volvo C40 for an in-person tour of all these luxury features in Hunt Valley, MD.
402 hp
487 lb-ft torque
0-60 mph in 4.5 sec
4,409 lbs max towing capacity2
49.0 cu ft cargo capacity
5 seats
226 miles electric range1
37 min (10-80% w. fast charging)
174.8 inches length
75.2 inches width
62.8 inches height
View Volvo C40 Electric SUV
Volvo XC40 Recharge Pure Electric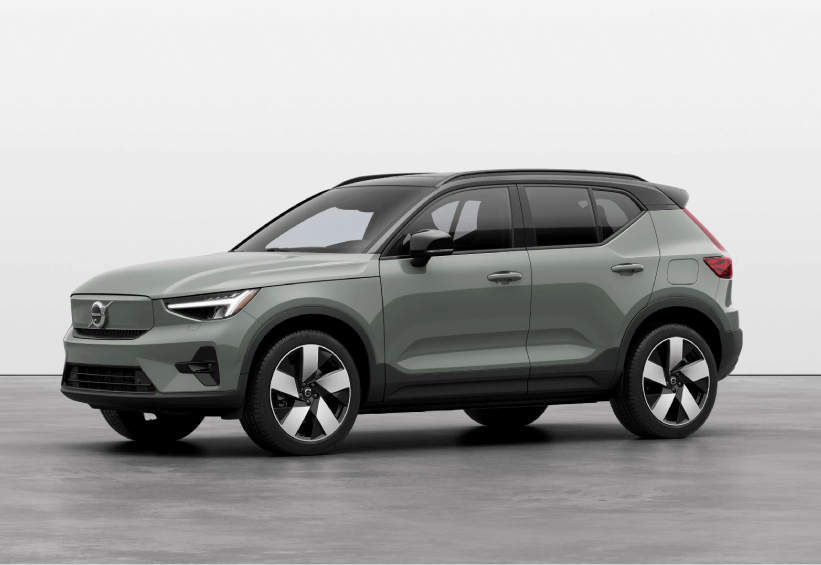 The Volvo XC40 Recharge is a Volvo electric SUV with impressive power, performance, and luxury to excite you on short trips and long treks. With features like a Harman Kardon® sound system, cross-traffic alert, and a seating capacity of up to five passengers, this vehicle is a must-have that will have you leaving gas station trips in the past. This all-electric SUV includes an advanced air purifier for easier breathing and driver assistance technology to ensure a safe distance from other cars. Enjoy other elite safety features, such as pixelated LED headlights that will work to reduce blinding other drivers while enhancing your visibility.
402 hp
486 lb-ft torque
0-60 mph in 4.7 sec
4,409 lbs max towing capacity2
57.5 cu ft cargo capacity
5 seats
223 miles electric range1
37 min (10-80% w. fast charging)
174.8 inches length
75.2 inches width
65 inches height
View Volvo XC40 Electric SUV
Volvo XC90 Recharge Plug-in Hybrid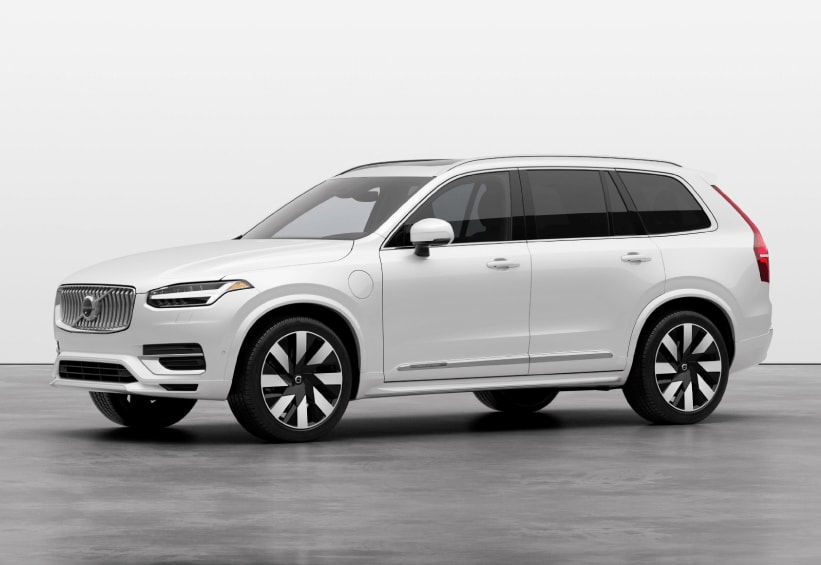 Experience leather-free luxury in the Volvo XC90 Recharge, which opts out of leather usage for a tailored wool blend that will make you equally comfortable and happier with the environmentally friendly choice. With room for up to seven passengers and interior amenities that make driving a luxurious adventure, the Volvo XC90 is a perfect option for enjoying every trip. Take a moment to look up and enjoy the available panoramic moonroof and the spacious room inside this Volvo hybrid SUV. The handcrafted Orrefors® crystal gear shift with genuine Swedish crystal is another perk of the Volvo XC90 that makes the interior feel luxurious and tranquil.
455 hp
523 lb-ft torque
0-60 mph in 5 sec
5,000 lbs max towing capacity2
85.7 cu ft cargo capacity
6-7 seats
35 miles electric range1
5 hrs (10-100% w. 240V 16 A)
195.0 inches length
79.1 inches width
69.9 inches height
View Volvo XC90 Hybrid SUV
Volvo Pure Electric SUVs
Volvo Cars debuted the all-electric Volvo XC40 Recharge SUV a couple of years ago. The vehicle has been continually updated to offer impressive performance. Motorists can drive by several gas stations without having to stop for fuel.
The car is powered by the Twin Motor powertrain, which pairs two motors with a powerful battery to make 402 horsepower. The vehicle can drive up to 223 miles on a single charge and gets an EPA-estimated 92/79/85 MPGe (City/Highway/Combined).1
When considering a vehicle from the lineup of Volvo electric and hybrid cars, not everyone will want an SUV. Luckily, Volvo Cars also offers the all-electric Volvo C40 Recharge, a sleek sedan that rides on the same impressive electric architecture found in the Volvo XC40 Recharge.
The car gets an EPA-estimated 92/79/85 MPGe (City/Highway/Combined).1 With fuel economy like that, your family budget will be thanking you for purchasing a sleek all-electric Volvo vehicle. Volvo Cars also recently announced a new all-electric three-row luxury SUV for the 2024 model year. You can pre-order the new Volvo EX90 today.
Volvo Plug-in Hybrid Models
Volvo Cars offers a wide selection of plug-in hybrid vehicles. The Volvo XC90 Recharge is a sleek three-row luxury SUV that gets excellent gas mileage thanks to its plug-in hybrid electric architecture. The Volvo XC60 Recharge is its smaller two-row sibling, offering even better fuel economy than the Volvo XC90 Recharge. These machines offer all the utility one expects of an SUV, along with savings at the pump.
The company has also designed non-SUV Volvo hybrid vehicles. The Volvo S60 and Volvo S90, which are spacious and luxurious executive sedans, are both available in the plug-in hybrid Recharge trim. If you're in the market for an efficient and comfortable wagon, Volvo Cars has you covered. The Volvo V60 Recharge blends power and ruggedness with great gas mileage. The expansive Volvo electric and hybrid cars lineup has something for everyone. Whether you're interested in our buy a Volvo XC90 Recharge Plug-in Hybrid SUV.
FAQs
Does Volvo Cars make a hybrid or electric car?
Volvo Cars makes a wide variety of hybrid and electric vehicles. In fact, as of the 2023 model year, the company does not produce any more gasoline-only vehicles. You can choose between mild hybrid models, plug-in hybrid Volvo vehicles, and all-electric cars that help you save money on fuel costs. Visit us today to test drive a sleek new Volvo vehicle.
What is the difference between electric and hybrid Volvo vehicles?
Hybrid Volvo vehicles, whether mild hybrids or plug-in models, still use a gasoline-powered internal combustion engine. All-electric vehicles, on the other hand, are powered solely by battery-and-motor electrical architectures. All of them are fuel efficient, but the electric models generally offer the greatest savings in the long term because they let you skip the gas station.
Is Volvo Cars really going all-electric in the future?
Volvo Cars is on track to produce only all-electric vehicles in the long term, probably in the 2030s. For the foreseeable future, however, the company will continue producing hybrid models as the world works on moving away from fossil fuels. Volvo Cars believes in sustainability and will work hard to make the switch to all-electric vehicles over time.
---
1This is an electric vehicle. Since electricity is not measured in gallons, a conversion factor is used to translate the fuel economy into miles per gallon of gasoline equivalent (MPGe). EPA-estimated 92 city/79 highway/ 85 combined MPGe. Use for comparison purposes only. Your MPGe will vary for many reasons, including but not limited to, driving conditions, how and where you drive, how you maintain your vehicle battery-package/condition, and other factors. For more information, including information on MPGe, see www.fueleconomy.gov
2When properly equipped.