2024 Volvo EX90: Model Preview & Pre-Order Info

The Volvo EX90 release date has been announced: Mark your calendars for its estimated delivery in early 2024. Get ready to come face to face with a new era of automotive safety; the Volvo EX90 is a new standard of protection for Volvo Cars as a brand and the auto industry as a whole. And while it prioritizes your well-being, it also takes care of the environment and will satisfy your tech, comfort, and luxury needs all at once.
Read on to preview the Volvo EX90 release date.
What Is the 2024 Volvo EX90 SUV?
Before exploring what the Volvo EX90 release date will bring, we'll ask, "What brought you to Volvo Cars?"
When we hear from our customers, the brand's 100-year history of going above and beyond for drivers' protection is often one of the main reasons. You'll know that Volvo designers have never treated on-road safety as just another box to check. And in today's world, a Volvo vehicle emphasizes environmental protection just as seriously, offering planet-friendly appointments and eco-friendly performance at every level.
The Volvo EX90 focuses deeper on these benefits, helping us march toward a future where everyone can enjoy peace of mind. And with over-the-air updates, your Volvo EX90 will help us build a world where our cars learn, adapt, and get better with us.
But at its core, the Volvo EX90 sets itself apart with a cutting-edge shield. A vast array of ultrasonic, radar, and lidar sensors work together with an advanced computing system to draw a real-time, three-dimensional picture of the road ahead and around us; this next-level package is called Safe Space Technology.
While our eyes and ears can do the same thing, we're only human. The Volvo EX90 is there to cover for understandable moments where we're not at our greatest, intelligently avoiding potential harm with cutting-edge driving countermeasures. From stepping in during drowsy moments to steering you clear of intersection hazards, you can pre-order the Volvo EX90 SUV today and get ready to enter a world without worry.
Your Citadel: The 2024 Volvo EX90 Interior
The Volvo EX90 release date is not the end of the Volvo XC90. Instead, the Volvo EX90 will be a seven-seat electric SUV that complements the gas or plug-in hybrid Volvo XC90 SUV.
We can see some family similarities inside. The Volvo EX90 dashboard bears a resemblance to the Volvo XC90, but "resemblance" is where it ends.
The expansive 14.5-inch touch-screen infotainment display is a floating portrait-oriented work of art. You'll notice a lack of something: buttons. The Volvo EX90 release date is arriving with never-before-seen levels of tech. Rather than resulting in an interior cluttered with physical controls, everything you need integrates with intuitive digital access.
The perfectly placed eight-inch digital gauge cluster moves with your vertical steering wheel adjustments, the displays automatically adapt to your actions (such as taking a call or parking), and a panoramic glass roof stretches across the cabin. In each seat, legroom and headroom are optimized, and through every inch, accents like backlit wood set an ambiance that optimizes your enjoyment.
With a 25-speaker Bowers & Wilkins® sound system, jewelry-like details all around, and sustainability-focused trimmings made from recycled PET bottles, wool, and FSC-certified wood, the Volvo EX90 will show us how the pinnacle of occupant protection can live in harmony with luxury, technology, and environmental protection.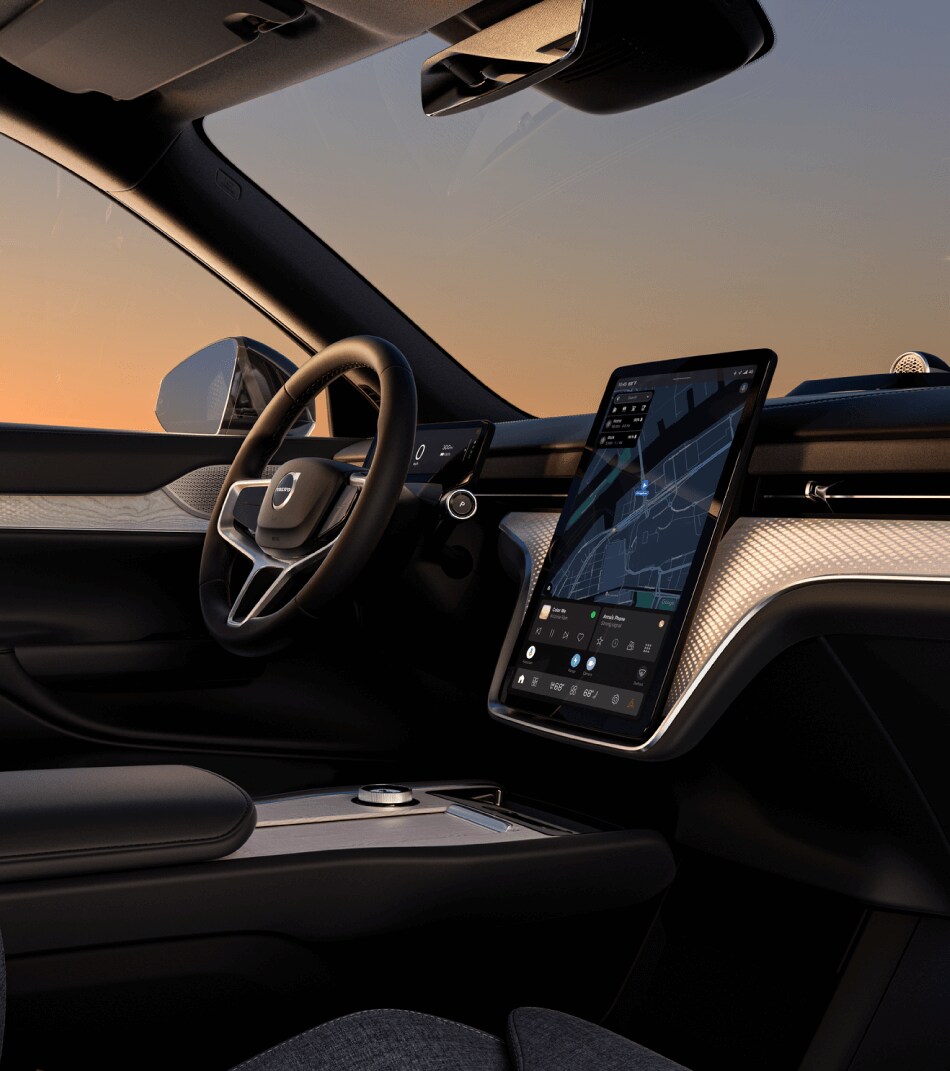 The 2024 Volvo EX90 Range & Electric Specs
The Volvo EX90 will bring the highest power levels to the Volvo SUV lineup. When it's time to have some fun, the Volvo EX90 will unleash up to 496 horsepower.1 The electric ponies gallop instantly. As a result, the Volvo EX90 acceleration will thrill with a zero-to-60-mph time as fast as 4.7 seconds.1
But an electric vehicle being impressively fast means very little without an impressive range. As the first Volvo electric vehicle drawn from the ground up as an EV, the Volvo EX90 electric range is the highest in the lineup. Specifically, it will arrive with an estimated range of up to 300 miles.1
Power-ups are just as fast as the acceleration; an estimated 30 minutes is all it takes to fast-charge the battery from 10% to 80%.1 More importantly, the power goes both ways. With the Volvo EX90, bi-directional charging is expected to let you use this SUV as a power supply for your home or a mobile charging station for other EVs.

The 2024 Volvo EX90 Price
The Volvo EX90 price is officially stated to be "well-equipped under $80,000." 1
We'll know the specifics once the Volvo EX90 release date rolls around. But for reference, the most comparable current Volvo SUV is the 2023 Volvo XC90 Recharge plug-in hybrid, and it has a starting price of $71,900 MSRP.2
So, the Volvo EX90 release date should arrive at a price not much higher than the XC90 Recharge, and our selection of Volvo lease specials will be able to take your enjoyment further.
Submit Your Volvo EX90 Order in Maryland and Virginia
The first part of the Volvo EX90 release date has passed, and pre-orders have opened. Reserve your Volvo EX90 today, and when configurations begin in the fall of 2023, you can tailor all the spectacular details at your leisure. Or, when the Volvo EX90 joins our inventory of new Volvo cars in early 2024, visit Bill Kidd's Volvo Cars to experience what unparalleled peace of mind feels like.
Frequently Asked Questions
What will be the next electric Volvo vehicle?
The 2024 Volvo EX90 is the brand's next all-electric vehicle and a seven-seat electric SUV flagship that will proudly join the currently available Volvo XC90 on our showroom floor. The Volvo EX90 release date will wrap up with estimated delivery in early 2024, and more Volvo electric vehicles are predicted to join the lineup soon after as a new era begins.
What is the Volvo EX90 release date?
The Volvo EX90 release date is split into three parts. The first part has arrived; the model has debuted, and we can now take your pre-order. Volvo EX90 configuration options will be available in Fall 2023, including colors, trim levels, optional features, and more. After that, the Volvo EX90 is estimated to arrive at Volvo dealerships in early 2024.
What is the expected Volvo EX90 price?
This exciting SUV will arrive with a price comparable to the Volvo XC90 Recharge SUV's starting price of $71,900 MSRP. 2 Specifically, the brand states that the Volvo EX90 will be "well-equipped under $80,000."1 The trim levels and optional packages you choose will affect the price, but the details will be revealed when configurations begin in the autumn of 2023.
---
1The figures are preliminary and derive from estimates and calculations performed by Volvo Cars for Volvo EX90 and these outcomes are not guaranteed. The driving range, horsepower, and energy consumption under real conditions vary depending on driving behavior and other external factors. Charging times can vary and are dependent on factors such as outdoor temperature, battery temperature, charging equipment, battery condition and car condition. Pricing is indicative and subject to change.
2Prices shown are Manufacturer's Suggested Retail Price (MSRP), Base Price or Starting At price and excludes destination fees, taxes, title, license, and registration and/or electronic filing fees, dealer fees.